Lifehacks
How to find a job without experience: Top 5 professions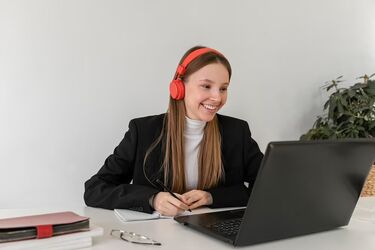 Do you have no experience and have already lost hope of finding a job? UAportal has collected tips and requirements for each profession to help you get started as soon as possible.
Customer service manager
The service industry is a field that provides many opportunities for people with no previous work experience. Many companies offer comprehensive training programs to equip new hires with the skills they need.
As a customer service representative, you will be responsible for assisting users, solving their problems, and providing quality service.
This profession requires excellent communication skills, patience, and the ability to handle difficult situations. By demonstrating dedication and a willingness to learn, you can succeed in this position and pave the way for further career growth.
Administrative Assistant
Administrative assistants take care of the smooth running of a particular organization. Although previous work experience is preferred, many companies are willing to hire individuals without formal education in this field.
As an administrative assistant, you will be responsible for managing schedules, organizing meetings, processing documentation, and performing various administrative tasks. Attention to detail, organizational skills, and knowledge of office software are essential for success in this profession.
Sales assistant
Many retailers are looking for employees who require little to no prior experience.
A sales assistant will assist customers, promote products or services, and help meet sales targets. This profession requires strong communication skills, a friendly attitude, and the ability to work in a team.
Freelance writer
For those who have a knack for writing and a desire to tell stories, the profession of a freelance writer can be very interesting and attractive. With the development of online platforms and content creation, there is a growing demand for talented writers. While work experience can be helpful, it is not always necessary.
As a freelance writer, you can explore different topic areas, such as blog writing, copywriting, or creating content for websites. Developing strong writing skills, meeting deadlines, and constantly improving your craft are the keys to success in this field.
Social media manager
Today, social media has become an integral part of business marketing strategies. If you have a good knowledge of different platforms, working as a social media manager can be a promising career choice.
Many companies are open to those who have a good understanding of social media trends and strategies. A social media manager is responsible for creating and implementing social media campaigns, interacting with the audience, and analyzing performance indicators.
If you keep abreast of the latest trends, show creativity and demonstrate the ability to drive engagement, you can achieve career growth in this position.
Earlier, UaPortal shared the advantages and disadvantages of spending time on the Internet.
If you want to get the latest news about the war and events in Ukraine, subscribe to our Telegram channel!