News
Scientists find tablets in Iraq written in ancient Bailon language, which was considered lost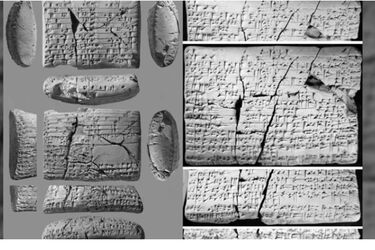 Archaeologists have found two Amorite-Akkadian tablets in Iraq, covered with inscriptions in the lost ancient Bailon dialect of the Akkadian language dating back about 4000 years. The artefacts are covered with inscriptions of the Canaanite people, about whom almost nothing is known. They lived on the territory of modern Syria, Israel and Jordan.
This was reported by NV.ua.
The inscriptions on the tablets were deciphered due to the fact that the phrases were written immediately with a translation into the more famous Akkadian language.
"Our knowledge of the Amorite language was so poor that some experts doubted whether it existed at all," say scientists Manfred Krebernick and Andrew R. George, but judging by the tablets, the language is complex, logically formulated and completely different from Akkadian."
Having studied the language, the scientists found that it belongs to the Western Semitic family of languages, which includes Hebrew and Aramaic.
Read also: Diamonds unknown to science found in a meteorite from Diablo Canyon in the USA
Professor Yoram Cohen of Tel Aviv University in Israel said that the plates could be called a tourist guide for those who speak Akkadian but would like to learn Amorite.
"There are texts about cooking, sacrifices, blessings of the ruler," Cohen said. "We even managed to decipher what could be a love song... It really covers all areas of life.
As a reminder, a 1700-year-old statue of the Greek god Pan was found in Istanbul.
If you want to get the latest news about the war and events in Ukraine, subscribe to our Telegram channel!