Recipes
Super quick dinner in 20 minutes: how to make onion pie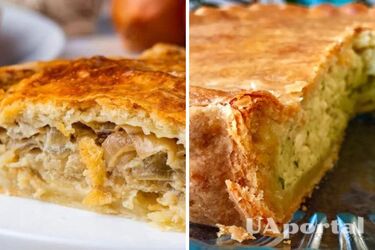 This dish is very flavorful, easy to prepare and satisfying. It is a great option for dinner or a snack.
Ingredients:
- Butter - 200 g
- Flour - 300 g
- Sour cream - 6 tbsp (20% fat)
- Baking soda - 1 tsp
- Vinegar - 1 tsp.
- Processed cheese - 4 pcs.
- Onions - 6 pcs.
- Eggs - 5 pcs. (4 - for filling, 1 - for greasing)
- Salt and pepper - to taste
- Greens - to taste
Method of preparation:
1. Mix the grated butter with the flour and add sour cream, baking soda slaked with vinegar, salt and mix.
2. Knead the dough, form a ball and wrap it in cling film and refrigerate for 2 hours or overnight.
Read also: An egg and tuna appetizer that will definitely drive you crazy
3. Filling: Peel the onion and cut it into thin half rings, which you fry in a frying pan. Add salt and pepper and cook for a few more minutes. Add grated cheese and mix.
4. Beat the eggs and add the herbs. Wait for the onion mixture to cool and mix it with the eggs.
5. Divide the dough into 2 parts: a larger and a smaller one. Put the larger part into a greased baking dish and spread it over the top, forming sides. Put the onions and cover with the second part of the dough. Bake at 160-170°C in the oven for 20-25 minutes.
6. Serve when cool.
We also recommend paying attention to the recipe for croutons with garlic and cheese.
If you want to get the latest news about the war and events in Ukraine, subscribe to our Telegram channel!