World
A herd of elephants in Africa robbed a truck with oranges (funny video)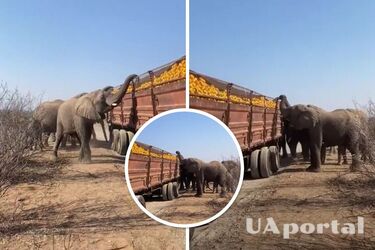 In South Africa, a truck carrying oranges stalled in the middle of the road. When the driver started to repair it, the truck and its trailer were attacked by a herd of elephants.
The incident, which took place in Limpopo, a province in northeastern South Africa, was caught on video.
Read also: In the UK, an otter robbed an expensive hotel for 126 thousand dollars (video)
You can see a truck with an open trailer in the middle of the road, several men trying to find out the cause of the breakdown, and a herd of elephants approaching the trailer and pulling out oranges. The author of the video, Austin Johnson, said that while the driver and his assistant were trying to fix the truck's tires, the elephants were stealing the oranges with their trunks.
Johnson told Storyful that the elephants in the area were roaming freely and moving to where they could find food and water.
"At first I was a little worried about being so close to them, but as I got closer to take a look at the truck problem, I realized they were only interested in one thing - sweet, juicy oranges," he said.
As a reminder, a 53-year-old safari guide filmed incredible footage of an elephant and a crocodile fighting in the Luangwa River in South Africa. According to Emmanuel Sauti, he was returning to camp from home on a weekend when he saw something happening in the water. When he approached, he realized that it was an elephant and a crocodile fighting.
If you want to get the latest news about the war and events in Ukraine, subscribe to our Telegram channel!