War in Ukraine
"We see the light of victory": Zelenskyy makes powerful address to Ukrainians on anniversary of Russian invasion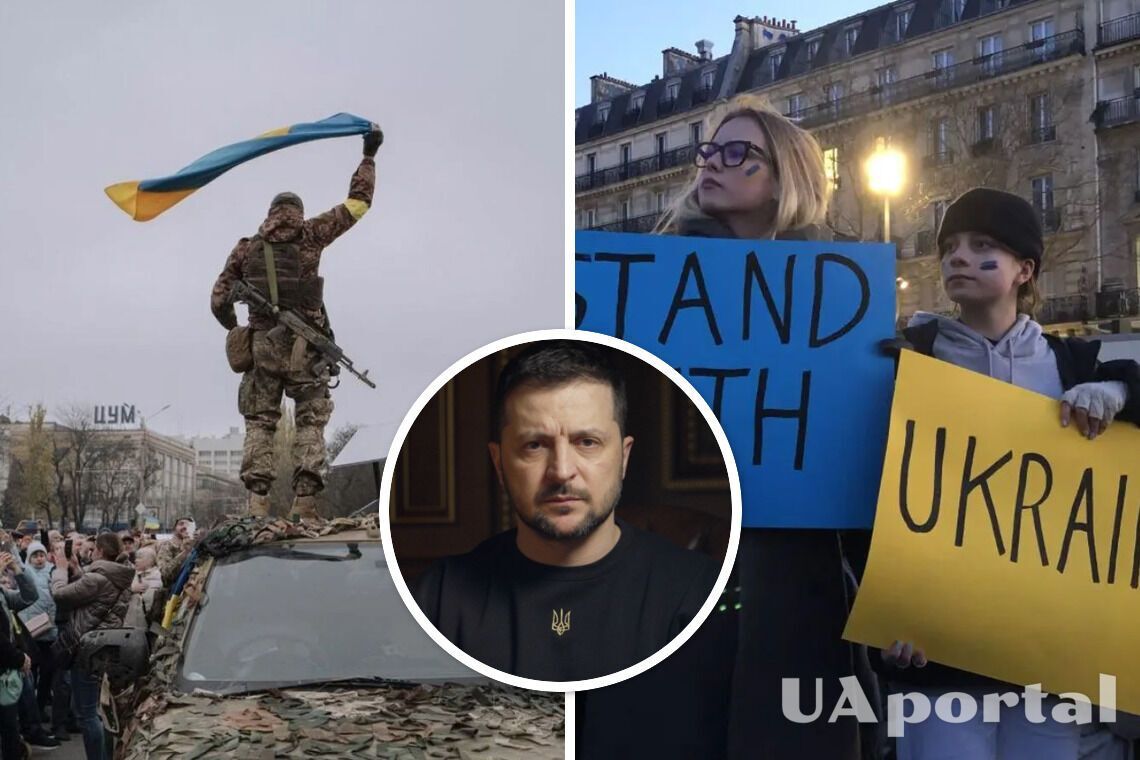 President of Ukraine Volodymyr Zelenskyy addressed Ukrainians on the anniversary of Russia's full-scale invasion on February 24. He expressed his gratitude to the citizens for their resilience and sacrifice and assured them that this year should be a victorious one.
Here is the full text of the President's address on February 24, 2023:
Great people of great Ukraine!
A year ago on this day, from this very place, at about seven in the morning, I addressed you with a short statement lasting only 67 seconds. It contained the two most important things then and now. That Russia has started a full-scale war against us. And that we are strong. We are ready for anything. We will defeat everyone. Because we are Ukraine!
So it began on February 24, 2022. The longest day of our lives. The hardest day of our modern history. We woke up early and haven't fallen asleep since.
Some people were afraid, some were shocked, some did not know what to say, but everyone felt what to do. There were traffic jams on the roads, but many people were going to get weapons. There were queues. Some people stood at the borders, but many went to military commissariats and territorial defence.
We did not raise a white flag, but began to defend the blue and yellow. We were not afraid, we did not break down, we did not surrender. The symbol of this was the border guards from Zmiine and the route they took to send the "Russian warship".
Our faith has grown stronger. Our spirit became stronger. We survived the first day of the full-scale war. We didn't know what would happen tomorrow, but we knew for sure that we had to fight for every tomorrow!
And we fought. We fought for every day. And we survived the second day. And then - on the third. Three days that we were given to live. They threatened that in 72 hours we would not exist. But we survived on the fourth day. And then on the fifth. And today we have been standing for exactly one year. And we still know that we have to fight for every tomorrow!
I am grateful to all those who make our resistance possible. These are all our defenders. The Armed Forces of Ukraine. The ground forces, our infantry and tankers. Air and Navy forces. Artillery, air defence, paratroopers, scouts, border guards. The Special Forces, the Security Service, the National Guard, the police, the Territorial Defence Forces - all our security and defence forces. Thanks to you, Ukraine is standing. And we survived the month of February and the fierce start of the war.
And then came spring. New attacks, new wounds, new pain. Everyone saw the true guts of our enemy. We saw the shelling of a maternity hospital, a drama theatre in Mariupol, Mykolaiv Regional State Administration, Svobody Square in Kharkiv, and the railway station in Kramatorsk. We saw Bucha, Irpin, Borodyanka. The whole world has clearly realised what the "Russian world" really means. What Russia is capable of.
At the same time, the world saw what Ukraine is capable of. These are the new heroes. Defenders of Kyiv, defenders of Azovstal. New feats performed by entire cities. Kharkiv, Chernihiv, Mariupol, Kherson, Mykolaiv, Gostomel, Volnovakha, Bucha, Irpin, Okhtyrka. Hero cities. Capitals of invincibility. New symbols. And with that, new assessments and forecasts for Ukraine.
The first month of the war. And the first turning point in the war. The first changes in the world's perception of Ukraine. It did not fall in three days. It stopped the second army of the world.
We suffered new blows every day, learned about new tragedies every day, but we survived thanks to those who gave their best every day. For the sake of others.
These are our medics who rescue wounded soldiers at the front line, perform surgeries under fire, deliver babies in bomb shelters, and stay on duty for days and weeks. Just like our rescuers and firefighters who pull people out of the rubble and out of the fire 24/7. And our railway workers, who have been evacuating hundreds of thousands of Ukrainians without sleep or rest since the beginning of the war.
And then there were the first offensives, the first achievements, the first liberated territories. The first and not the last Chornobaivka. The expulsion of the occupiers from the Kyiv, Sumy and Chernihiv regions. Our Stuhna. Our "Vilkha". Our "Neptune" and the cruiser "Moskva", which is sinking. The first Ramstein. And the second ever land-lease.
Ukraine surprised the world. Ukraine has inspired the world. Ukraine has united the world. There are thousands of words to prove it, but a few are enough. HIMARS, Patriot, Abrams, IRIS-T, Challenger, NASAMS, Leopard.
I thank all of our partners, allies and friends who have stood by our side throughout the year. I am pleased that the international anti-Putin coalition has grown so much that it requires a separate address. I will make it soon. I will.
I also thank our foreign policy army. Divisions of our diplomats, ambassadors, representatives in international organisations and institutions. All those who are fighting the occupiers with fire and sword of international law, seeking new sanctions, recognising the terrorist state as a terrorist state.
The war has changed the fate of many families. It rewrote the histories of our families. It changed our customs and traditions. Grandfathers used to tell their grandchildren how they beat the Nazis. Now the grandchildren tell their grandfathers how they beat the Nazis. Mothers and grandmothers used to weave scarves, now they weave camouflage nets. Children used to ask Santa for smartphones and gadgets, but now they give back pocketbooks and raise money for our soldiers.
Over the year, virtually every Ukrainian has lost someone. Father, son, brother, mother, daughter, sister. A loved one. A close friend, colleague, neighbour, acquaintance. My condolences.
Almost everyone has at least one contact in their phone who will never pick up the phone again. Will never answer a text message "How are you?". These two simple words have acquired a new meaning during the year of war. Every day, millions of Ukrainians have written or spoken this question to their loved ones millions of times. Every day, someone did not receive an answer. Every day, the occupiers killed our relatives and friends.
We will not erase their names from the phone or from our own memory. We will never forget them. We will never forgive them. We will never rest until the Russian murderers are brought to justice. The punishment of an international tribunal. The judgement of God. Our soldiers. Or all of them together.
The verdict is obvious. Nine years ago, a neighbour became an aggressor. A year ago, the aggressor became a torturer, looter and terrorist. We have no doubt that they will be held accountable. We have no doubt that victory awaits us.
We felt it in the summer. We have passed 100 days of war. We received EU candidate status, regained Zmiinyi, heard the first "Cotton" pops. in Crimea, saw fireworks at the occupier's warehouses and Antonivskyi Bridge.
August was the first month when the occupiers did not take a single Ukrainian city. Threats and ultimatums about denazification were replaced by gestures of goodwill. And we felt then that our victory was inevitable. It is close. It will come.
And then came the autumn. And our counter-offensive. The liberation of Izyum, Balakliya, Kupyansk, Lyman, Kherson region and the city of Kherson. We saw how people there met our military. How they protected the Ukrainian flag. How they waited for Ukraine.
I want to address those who are still waiting. To our citizens who are now under temporary occupation. Ukraine has not abandoned you, has not forgotten about you, has not given up on you. One way or another, we will liberate all our lands. We will do everything to make sure that Ukraine returns. And to all those who are now forced to stay abroad: we will do everything to bring you back to Ukraine. We will do everything to make it possible.
We will fight and bring back every single one of our soldiers. And only this will be a victory.
We can see it even in the dark. Despite the constant massive missile attacks and power cuts. We see the light of this victory.
People recall their first feelings on February 24, 2022, as shock, pain, and uncertainty. A year after the full-scale invasion, the belief in victory is 95%. The main emotion we feel when we think about Ukraine is pride. For every man and woman in Ukraine. Pride in us. We have become one big army. We have become a team, where someone finds, someone packs, someone brings, but everyone donates.
I am grateful to our people, grateful to our multi-million army of volunteers and concerned citizens who can collect and get everything we need.
We have become one. Our journalists and media are fighting against lies and panic as a united front.
We have become one family. There are no longer any strangers or unfamiliar people among us. Ukrainians today are all our own. Ukrainians have sheltered Ukrainians, opened their homes and hearts to those who were forced to flee the war.
We can withstand all threats, shelling, cluster bombs, cruise missiles, kamikaze drones, blackouts, and cold. We are stronger than that.
It was a year of resilience. A year of indifference. A year of courage. A year of pain. A year of hope. A year of endurance. A year of unity.
The year of indomitability. February is the year of resilience.
Its main result is that we survived. We have not been defeated. And we will do everything to win this year!
Glory to Ukraine!