War in Ukraine
Ukrainian Armed Forces destroy occupants' ammunition depot near Bakhmut with one shot (video)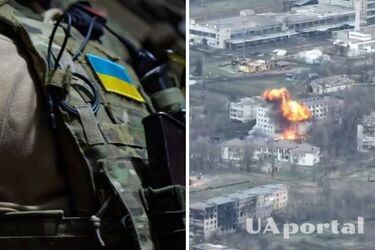 Ukrainian troops destroyed an enemy ammunition depot near Bakhmut. The soldiers also managed to eliminate the occupiers' military equipment.
It took one shot to destroy the Russian position. This was reported on the Telegram channel of the Land Forces of the Armed Forces of Ukraine.
It is noted that the destruction of the enemy position was carried out by scouts of the 30th Separate Mechanised Brigade named after Prince Kostiantyn Ostrozkyi together with artillerymen of the 26th Artillery Brigade named after Corporal General Roman Dashkevych and the 45th Separate Artillery Brigade of the Armed Forces of Ukraine.
Read also: Ukrainian troops "crushed the enemy" in the Bakhmut sector
The video shows the location where the occupiers have deployed an ammunition depot and military equipment. After the shell hit, a massive fire broke out at this location. The occupiers' ammunition began to explode, and the fire spread to the military equipment.
The exact time and place of the destruction of the occupiers' depot is not disclosed for security reasons.
Earlier, fighters from Danylo Apostol's Brigade showed how they managed to destroy a significant amount of Russian military equipment, including Shilka and Zoopark.
If you want to get the latest news about the war and events in Ukraine, subscribe to our Telegram channel!