Politics
Biden visits Kyiv and promises 700 tanks, thousands of infantry fighting vehicles and comprehensive US support (all details)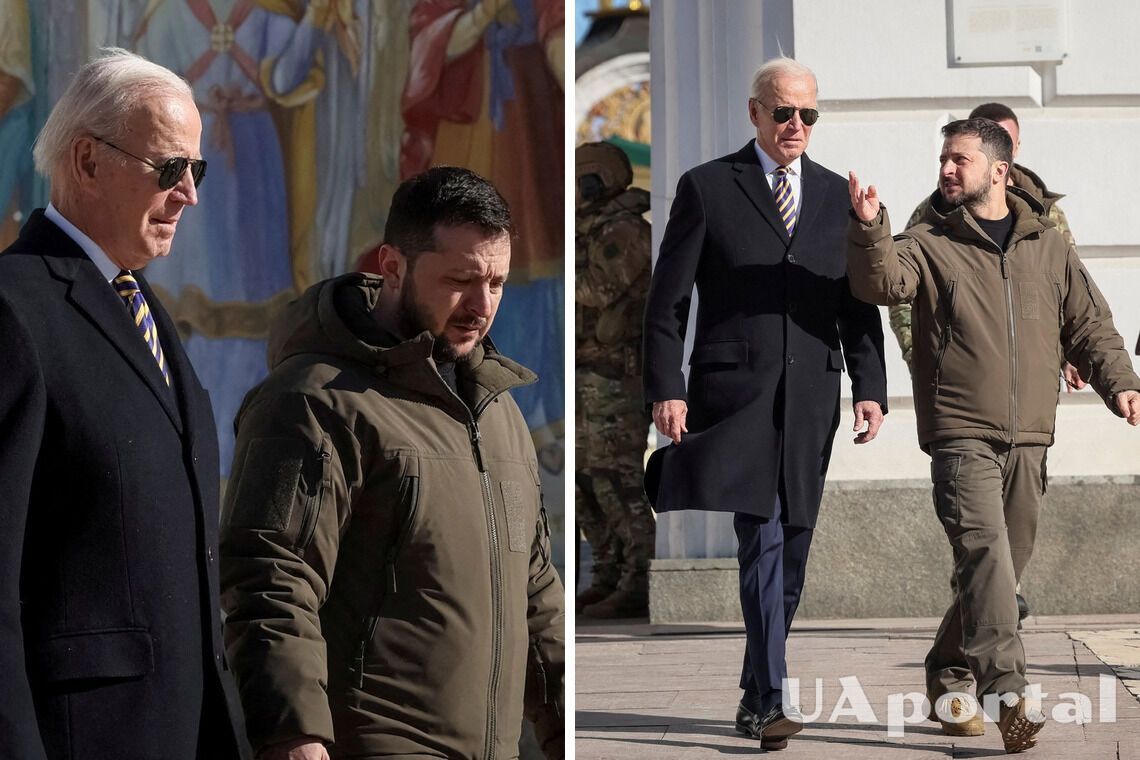 On Monday, February 20, US President Joe Biden made an unannounced visit to Kyiv. The US president was spotted with Ukrainian President Volodymyr Zelenskyy near St Michael's Cathedral in the capital.
It is reported that Volodymyr Zelenskyy and Joe Biden paid tribute to the fallen defenders of Ukraine at the wall of remembrance of St Michael's Cathedral.
As soon as it became known that Biden may have arrived in the Ukrainian capital, a large-scale air raid was announced. The American leader and the President of Ukraine walked near St Michael's Cathedral in Kyiv to the sound of sirens.
Read also: Memes explode online because of Biden's visit to Kyiv and Russians' hysteria (photos)
On his Telegram channel, Volodymyr Zelenskyy welcomed Biden's decision to visit Ukraine: "Joseph Biden, welcome to Kyiv! Your visit is an extremely important manifestation of support for all Ukrainians."
Biden's statement, published on the White House website, noted:
"As the world prepares to mark the one-year anniversary of Russia's brutal invasion of Ukraine, I am in Kyiv today to meet with President Zelenskyy and reaffirm our unwavering and unflagging commitment to Ukraine's democracy, sovereignty, and territorial integrity.
When Putin launched his invasion nearly one year ago, he thought Ukraine was weak and the West was divided. He thought he could outlast us. But he was dead wrong.
Today, in Kyiv, I am meeting with President Zelenskyy and his team for an extended discussion on our support for Ukraine. I will announce another delivery of critical equipment, including artillery ammunition, anti-armor systems, and air surveillance radars to help protect the Ukrainian people from aerial bombardments. And I will share that later this week, we will announce additional sanctions against elites and companies that are trying to evade or backfill Russia's war machine. Over the last year, the United States has built a coalition of nations from the Atlantic to the Pacific to help defend Ukraine with unprecedented military, economic, and humanitarian support – and that support will endure.
I also look forward to traveling on to Poland to meet President Duda and the leaders of our Eastern Flank Allies, as well as deliver remarks on how the United States will continue to rally the world to support the people of Ukraine and the core values of human rights and dignity in the UN Charter that unite us worldwide."
After their one-on-one meeting at the Mariinsky Palace, Zelenskyy and Biden held a media briefing.
Biden said that the United States, along with 50 partner countries, would provide Ukraine with more than 700 tanks, thousands of armoured vehicles, a thousand artillery systems, more than 2 million artillery shells, etc.
"Later this week, we will announce additional sanctions against elites and companies that are trying to evade or fill the Russian war machine," he added.
Biden also said that this week the US will provide billions in budgetary aid to help provide basic services to Ukrainian citizens.
We would like to add that today was Biden's first visit to Ukraine as President of the United States. He previously visited Ukraine when he was Vice President of the United States. It was in July 2009, three times in 2014, then in December 2015 and January 2017.
The last time President Zelensky met with the American leader was in December 2022. It happened during the Ukrainian president's visit to the United States.
If you want to get the latest news about the war and events in Ukraine, subscribe to our Telegram channel!