Horoscopes
Three zodiac signs will find love in April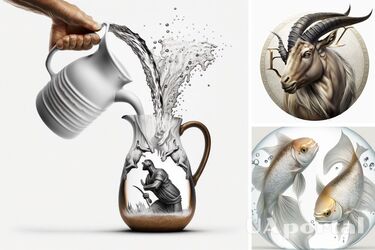 UAportal has prepared a horoscope for three zodiac signs that will be able to find love in April. These lucky people will be lucky in their relationships.
Aquarius
As the Sun passes through Aquarius in April, those born under this sign will be endowed with a strong sense of independence and creativity, which will attract potential partners. They should use their confidence to take risks and express themselves sincerely, as these qualities will help attract significant connections.
In addition, it should be remembered that communication is key in relationships. The more openly they talk about feelings and intentions, the more likely they are to create strong connections with other people.
Capricorn
Capricorns may feel very sensitive in April due to the position of the Moon in their sign. This heightened emotional state can lead to tense conversations with potential partners or even cause arguments if not managed properly.
Read also: Only six zodiac signs will make dreams come true in the spring
However, Capricorns can learn to channel this energy in a positive way by being honest about their feelings and listening carefully to what others have to say. Then they have a good chance of making deep connections with people who understand them on an emotional level.
Pisces
This month, Venus is in Pisces, which can bring a lot of romance into the lives of those born under this sign. They should take advantage of this period to express their feelings openly and honestly to potential partners.
In addition, you should remember that relationships require effort on both sides. You need to be patient and understanding with your partner.
Earlier, astrologers told how men from the first half of the zodiac signs, from Aries to Virgo, and the second, from Libra to Pisces, show their love.
If you want to receive the latest news about the war and events in Ukraine, subscribe to our Telegram channel!