Lifehacks
How to remove pet hair from clothes: life hacks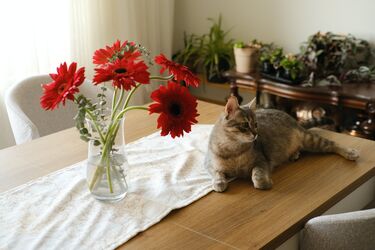 UAportal has prepared useful tips and tricks that will help you easily clean clothes from pet hair. Let's see how you can keep your wardrobe clean with these simple methods.
Static electricity
Pet hair on clothes can be easily removed with a dryer sheet. By wiping the fabric with the sheet, pet hair is attracted by static electricity. Known for its simplicity and effectiveness, this method is a favorite among pet owners.
Read also: How to drive away outdoor cats that mark on windows and doors
Lint roller
A lint roller is a quick and convenient solution for removing pet hair from clothes. Just roll it over the fabric and the sticky adhesive will grab and lift the hair. This versatile tool can also be used on furniture and other fabric surfaces to remove pet hair.
Rubber gloves
Rubber gloves can work wonders for getting pet hair out of clothes. After slightly dampening the gloves, run them firmly over the fabric to pick up the hair. Rinse the gloves from time to time to remove any accumulated hair, and repeat the procedure until the garment is completely free of pet hair.
Earlier, we told you how to get rid of cat urine odor.
If you want to get the latest news about the war and events in Ukraine, subscribe to our Telegram channel!