Horoscopes
April 25 horoscope for Sagittarius, Libra and Scorpio: believe in yourself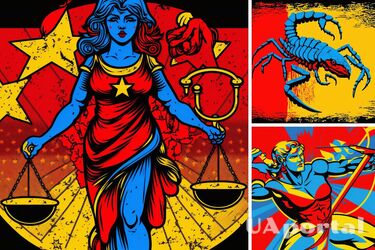 UAportal has prepared general predictions for Libra, Scorpio, and Sagittarius for April 25. On this day, you should pay attention to communication with other people.
Libra.
Libra, you may have opportunities for personal growth and development. You may find yourself exploring new interests and expanding your knowledge base. Keep an open mind and be receptive to new ideas and experiences.
On this day, happiness may follow and you may find joy in the simple things. Spending time with loved ones or doing what you love, try to find moments of peace and contentment.
Scorpio.
Scorpio, you may experience feelings of emotional intensity. You may find yourself exploring your feelings and seeking deeper connections with others. Trust your intuition and be open to communication.
Also read: April will bring great luck to three zodiac signs
Love can accompany you on this day, depending on your approach. Be honest and sincere with those you care about and try to understand their interests. Communication is the key to any relationship.
Sagittarius.
Sagittarius, you may have opportunities for growth and success. You may find yourself pursuing your passions and taking risks to achieve your goals. Embrace new experiences and be open to change.
Success can follow you, depending on your thoughts. Believe in yourself and your abilities and take active steps towards your aspirations. Don't be afraid to take risks and think outside the box.
As UAportal reported earlier, astrologers have named two of the evilest zodiac signs that are capable of terrible revenge.
If you want to get the latest news about the war and events in Ukraine, subscribe to our Telegram channel!