Showbiz
5 surprising facts about Tom Felton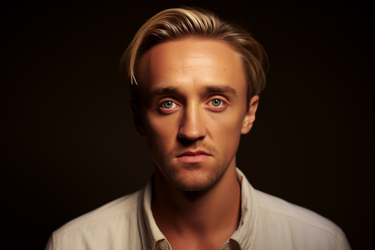 Tom Felton, known for his role as Draco Malfoy in the Harry Potter movies, has a few secrets that fans may not know about. Despite playing a character from Slytherin, Felton himself identifies as a Gryffindor. We delve into little known details about the talented actor.
Early start to his acting career
Before playing the iconic Draco Malfoy, Felton began his acting career at a young age. At the age of 10, he made his movie debut as Pygryn Cloke in the 1997 film Thieves.
Interestingly, Jim Broadbent, who would later join the cast of "Harry Potter" as Horace Slughorn, portrayed Felton's on-screen father, Pod Cloke, in the same movie a decade earlier.
Felton auditioned for the roles of Harry and Ron
Surprisingly, Felton first tried out for the roles of Harry Potter and Ron Weasley before he landed the role of Draco Malfoy. During a 2011 interview, he expressed his gratitude for getting the role of Draco, recognizing that Rupert Grint and Daniel Radcliffe were perfect for their roles.
He praised his colleagues on set, saying: "I have no doubt that nobody else in the world A) could have played the character better, but B) could have handled the behind-the-scenes pressure that these guys have dealt with over the last decade. ".
Read also: Dropped out of school for a career: what else is known about Damiano David
Musical inspiration
Tom Felton found inspiration to become a singer-songwriter through the music of American singer Jack Johnson. Recalling his journey, Felton revealed that while listening to Johnson's music, he realized that he wanted to learn how to play the guitar. However, it took him quite some time to master the art of singing and playing the guitar at the same time.
Watching Harry Potter movies
At first, Felton claimed that he would only review Harry Potter movies when he had children of his own. In an interview with People magazine in 2018, he talked about it as a special and sentimental experience that he wanted to share with his future children. Recently, however, Felton has taken to reviewing movies and actively sharing his reactions via live-streaming on social media.
An unusual encounter with a fan
Felton shared a disturbing experience of interacting with fans in 2018. He shared how a devoted fan legally changed his name to Lucius Malfoy and even offered to legally adopt Felton, asking him to change his name to Draco Malfoy. Felton, of course, rejected this peculiar offer.
Recall, we told you what is the importance of Tom Cruise in filmmaking and how the legends about him inspire future generations.
Want to receive the most relevant news about the war and events in Ukraine - subscribe to our Telegram channel!