Recipes
A taste of summer: a recipe for banana pudding with ice cream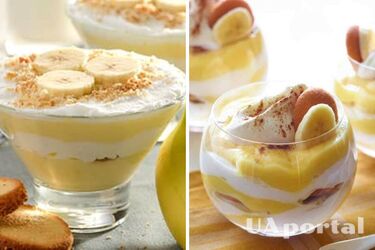 Pieces of bananas and biscuits, custard and ice cream - this is the famous banana pudding.
Ingredients
- Bananas - 2 pcs.
- Milk - 320 ml
- Wheat flour - 3 tbsp
- Eggs - 2 pcs.
- Shortbread biscuits - 70 g
- Butter - 1.5 tsp
- Sugar - 80 g
- Vanilla sugar - 2 g
- ice cream - 100 g
Read also: How to make a chocolate fondant to look like a restaurant
Method of preparation:
1. Pour milk into a saucepan and add sifted flour.
2. Beat the flour and milk with a mixer until smooth.
3. Separate the yolks from the whites. Add sugar and vanilla to the yolks. Mix well.
4. Pour the sugar-egg mixture into the flour and milk. Whisk to combine.
5. Put the saucepan on low heat and heat the mixture for 2-3 minutes while stirring constantly.
6. After the mixture thickens, remove the pan from the heat. Add the butter and stir. Leave to cool.
7. Put the chopped banana and some of the cream in a blender bowl and blend for a few minutes.
8. Cut the other banana into slices, break the biscuits.
9. Put the biscuits and banana in the bottom of the bowls and top with a layer of pudding and a scoop of ice cream.
10. Repeat the layers until the bowls are full. Put in the refrigerator for a few minutes.
We also recommend paying attention to the recipe for natural homemade ice cream.
If you want to receive the latest news about the war and events in Ukraine, subscribe to our Telegram channel!