News
Russian Orthodox Church calls to bomb Ukraine with the words "Lord, have mercy" (video)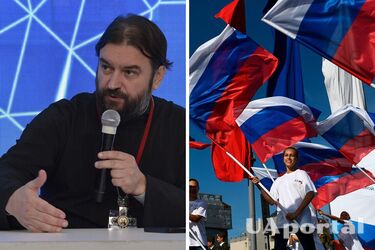 Russian Orthodox Church archpriest and traitor to Ukraine Andriy Tkachev called on Russians to strike Ukrainian cities with words of prayer. According to the priest, Grad rockets should be charged with the phrase "Lord, have mercy".
A video of his new sermon was posted on Russian Telegram channels. In it, he not only justifies Russian armed aggression, but also encourages it.
Read also: "It's not just Russia": Patriarch Kirill of the Russian Orthodox Church spoke about the "Russian world", which is allegedly "everywhere"
"Every cigar you take a drag on, you say, 'Lord, have mercy, Lord, have mercy, Lord, have mercy'. And so on, and so on, and so on. Not because you want to, but because you have to," Tkachev said.
It is noteworthy that Tkachev has previously repeatedly called on Russians to go and kill Ukrainians. According to him, if you pray before dying in a war, you will go to heaven.
Andriy Tkachev was born and raised in Lviv. Since 2004, he has served in the church of the Kyiv Pechersk Lavra. However, in 2014, he moved to Russia and regularly criticised the Ukrainian Orthodox Church and preached sermons in the Cathedral of Christ the Saviour and the Assumption Cathedral in Moscow.
As reported, on November 25, the SBU conducted searches in the Chernivtsi-Bukovyna Diocese of the UOC-MP. During the raids, security forces caught the secretary of the Chernivtsi Diocese of the UOC-MP, Archimandrite Nikita, in bed with a 17-year-old singer of a local choir.
If you want to receive the latest news about the war and events in Ukraine, subscribe to our Telegram channel!