War in Ukraine
Occupant's car blown up in Mariupol, "cotton" in Melitopol and Tokmak: what is known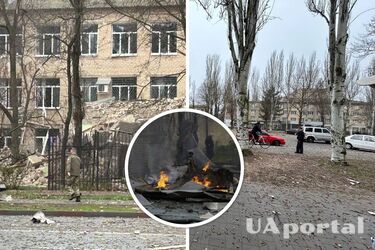 On the morning of March 27, loud explosions were heard in several Ukrainian cities occupied by Russia. In particular, the "cotton" was reported by publics in Mariupol, Melitopol and Tokmak.
According to preliminary information, a car belonging to a Russian militant commander exploded in Mariupol. The Mariupol City Council reported on Telegram that an explosion occurred in the city at 8:07 am near the Bakhchyvanji market (Primorsky district, Budivelnykiv Avenue).
The mayor of Mariupol, Vadym Boichenko, said that "the Mariupol resistance struck in occupied Mariupol, blowing up the car of one of the top military officers". He promised to provide details later.
It became known that the car of the occupation "police chief" Mikhail Moskvin exploded.
Russian media reported that he was a few metres away from the car at the time of the explosion - he allegedly suffered only a concussion and survived.
Meanwhile, in Melitopol, according to local people in Telegram channels, explosions destroyed several buildings where the occupiers were stationed. In particular, they write that from the dormitory of the motorcycle college, where the so-called "Minister of Education and Science" Olena Shapurova moved the military in, they "ran out into the yard in their underwear".
The building of the so-called 'State Security Service' of the Russians was also destroyed.
"The State Security Service is located in several buildings. The leaders are in a squeezed-out building of a former university - the Melitopol branch of the Zaporizhzhia Institute of Economics and Information Technologies on 50th Anniversary of Victory Avenue. It was surrounded by a metal fence. These buildings have been damaged after arrivals," RIA Melitopol reported.
Russians wrote on social media that four people were injured in the explosions.
In Tokmak in Zaporizhzhia, "three hits" were made on Russian positions. Locals write that the explosions caused an ammunition depot to detonate.
If you want to get the latest news about the war and events in Ukraine, subscribe to our Telegram channel!