News
Treasures belonging to the Muisca civilization associated with the legend of Eldorado found in Colombia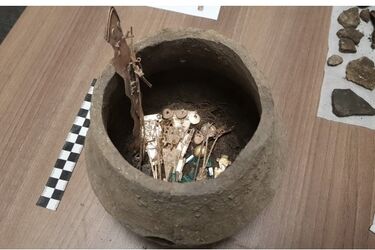 During archaeological work in Colombia near Bogotá, eight ceramic jugs with metal figurines and emeralds inside were found. According to scientists, the discovery dates back to the Muisca (Chibcha) civilization, which lived in this place 600 years ago.
Live Science wrote about it.
The Muisca people are known for their high skill in metalworking, so the conquistadors believed that they built the legendary golden city of Eldorado.
Archaeologists have found several ancient graves and temple ruins. They also found jugs called "offrendatarios". Perhaps the treasures found by the scientists are indeed related to the myth of Eldorado, because not only the age of the artifacts coincides with it. This is evidenced by the metal from which the figures are made - pure gold.
Read also: Archaeologists find an ancient 6th century city in the Persian Gulf where pearls were mined
Also, the Muisca civilization had a tradition of lubricating the chief with an ointment with gold particles in it during important ceremonies.
"This ceremony was one of the motifs behind the myth of El Dorado. It was described by the conquistadors in their historical chronicles," the scientists said.
The region where the Muisca lived was conquered by the Spaniards between 1537 and 1540. Many representatives of this civilization died as a result of battles or due to disease. But the people were not completely destroyed - many of their descendants live today.
As a reminder, scientists have found the oldest human burial site in southern Africa, dating back more than 200,000 years.
If you want to get the latest news about the war and events in Ukraine, subscribe to our Telegram channel!