News
A 5000-year-old crystal dagger found in Spain: an example of the highest craftsmanship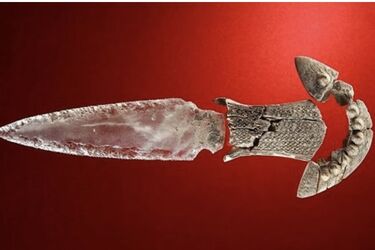 During excavations in southwestern Spain, scientists from the University of Granada, Seville, and the Spanish Higher Research Council found an ancient crystal dagger dating back 5,000 years in a tomb located in the lower part of the Guadalquivir Valley, in the village of Valencia de la Concepción Castilleja de Guzman.
It is reported by the Daily Mail.
The dagger was made of rock crystal. The researchers were impressed by the craftsmanship, calling it "technically sophisticated," noting that it required great skill to create.
The length of the find is 22 cm. In addition to the dagger, they also found 10 arrowheads made of rock crystal, the blade of the weapon was polished.
Read also: Ming Dynasty shipwrecks loaded with porcelain discovered in China
According to scientists, the dagger was found far from the mines where rock crystal was mined. Therefore, we can say that the unique weapon belonged to a very wealthy person who could pay a lot of money for the material and its processing.
There is an assumption that in ancient times it was believed that crystal enhanced vitality. The stone was also used for magic and communication with the gods.
As a reminder, ancient Roman sculptures were found in Britain on the site of the ruins of a medieval church.
If you want to receive the latest news about the war and events in Ukraine, subscribe to our Telegram channel!