News
More explosions in Belgorod region, locals film a column of black smoke (video)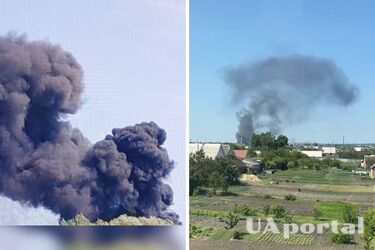 On May 29, explosions were heard in the Russian city of Shebekino, Belgorod region. Local residents report a column of black smoke that is visible for many kilometers.
According to preliminary reports, a large-scale fire broke out at a paint manufacturing facility. The regional authorities blamed Ukraine for the fire.
Belgorod Region Governor Vyacheslav Gladkov said that four employees of the company were hospitalized with respiratory tract burns and carbon monoxide poisoning. One is in intensive care in serious condition, and three are in moderate condition.
Read also: Powerful explosions occurred in occupied Berdiansk: hit at the place of occupants' deployment
Local residents posted videos online showing an air raid siren and explosions. Gladkov added that two enterprises came under fire, but the second one had no casualties and no signs of damage.
The day before, on May 27, two enterprises were reported to have been hit in Shebekino. Power lines were also damaged.
As a reminder, the Main Directorate of Intelligence warned of Russian provocations against ZNPP.
If you want to get the latest news about the war and events in Ukraine, subscribe to our Telegram channel