News
Powerful explosion in Belgorod: locals talk about bombs and fighter jets (video)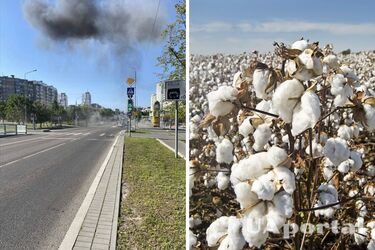 On June 1, a powerful explosion occurred in Belgorod, Russia. Local residents report hearing the sound of a fighter jet flying overhead.
Russians assume that a bomb was dropped on the city. The explosion occurred in a large residential area of Kharkivska Hora, according to local Telegram channels.
It is noted that debris fell in the city after the explosion. Police blocked one of the streets of Belgorod.
Read also: "Come to the side of good": the Freedom of Russia Legion appealed to the Russian army
An ambulance has already arrived at the scene. At least two people are known to have been injured and are being treated. In addition, several cars were damaged.
Some witnesses report an aircraft-type drone, others a plane that dropped the bomb. The video shows thick smoke and the sound of explosions.
Earlier, the Monocrystal plant in Shebekino caught fire. Enemy fuel tankers were there.
On the morning of 1 June, fighters of the Russian Volunteer Corps and the Freedom of Russia Legion announced the second phase of the "military operation" in Russia. The RVC and Legion said they had broken through the border in the Belgorod region and were advancing towards Shebekino. They claimed to have destroyed a cluster of enemy vehicles in the village of Nova Tavolzhanka, near the town of Shebekino.
If you want to get the latest news about the war and events in Ukraine, subscribe to our Telegram channel!