War in Ukraine
Ukraine is building up forces for a counteroffensive: how much military equipment promised by the Allies has the Armed Forces of Ukraine already received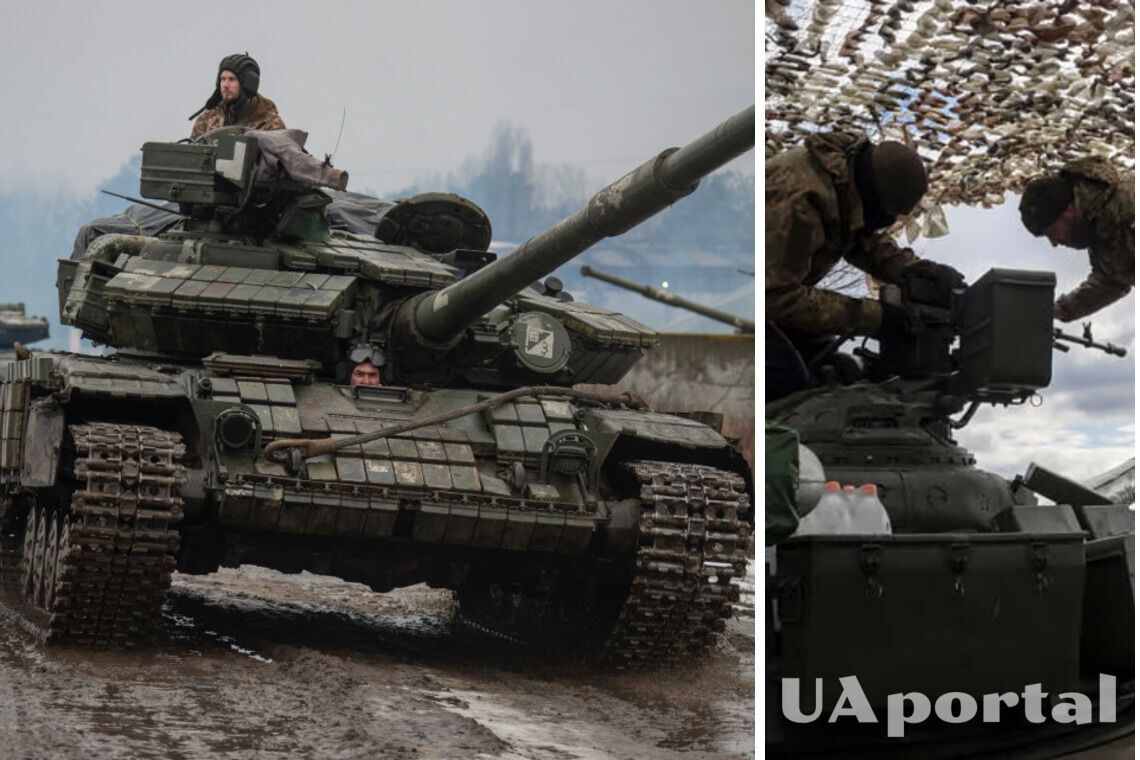 Currently, all eyes are on the battle for the city of Bakhmut in eastern Ukraine. However, attention will soon turn to the expected counteroffensive, which may begin as early as April. The Economist writes about it.
On January 25, German Chancellor Olaf Scholz promised to send the Leopard 2a6, an improved version of the German tank. This prompted other European countries that have Leopard tanks in service to transfer them to Ukraine. So far, the coalition has only received two battalions of the most modern Leopards (a Ukrainian tank battalion should have 31 tanks). Denmark, Germany and the Netherlands are also purchasing at least 100 older but refurbished Leopard 1a5s for Ukraine, which is another three battalions.
Read also: The Netherlands is considering the possibility of transferring the Patriot air defense system to Ukraine
In addition, the UK is sending the company of 14 Challenger 2 tanks, and the United States has promised 31 of the latest m1a2 Abrams tanks. Poland has promised 14 "Leopards" and has already sent about 250 Soviet-made T-72 tanks to Ukraine, and will also send another 60 modernized T-72s. A variety of infantry fighting vehicles, ranging from the outdated Soviet-era BMP-1 to the American Stryker and Bradley, will complement the armored brigades.
In December, America and Great Britain realized that a protracted war was not in the interests of Western countries. In addition, Russia turned out to be even weaker than previously thought. The turning point occurred on January 20 at the eighth meeting of the Ukraine Defense Contact Group, a U.S.-led meeting of defense ministers held roughly once a month at the large US Air Force Base in Ramstein, Germany. There, the allies agreed to equip Ukraine with a division of tanks, with most of them ready by the end of March.
The newspaper reports that of all the military aid promised by the Pentagon since the beginning of the war, 40% - that's more than $8 billion - arrived in the three months since December 9. The latest American aid package includes, for example, armoured vehicle-launched bridges, which will be vital for any offensive in the south or east.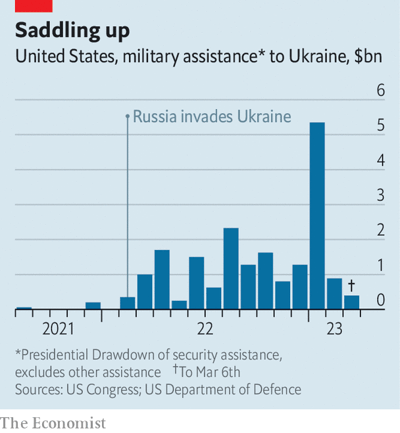 The Ukrainian army is being transformed. The bulk of its equipment is still of Soviet origin, but while at the end of last year the ratio of Ukrainian to Western equipment was five to one, it is expected to change to five to two with the arrival of Western aid.
This means that almost a third of the Ukrainian army will soon be armed to NATO standards. General Valerii Zaluzhnyi hopes that eventually he will have at his disposal 3 new army corps, each with 6 brigades, each of which will have more than 20,000 men.
Read also: Poland denies the statement about the arrival of the Patriot air defense system in Ukraine
Russia's offensive in late January was aimed, in particular, at forcing Ukraine to deploy these reserves, which made it much more difficult to organize a counteroffensive. In recent days, Russian troops and mercenaries have advanced deep into Bakhmut, which has been under pressure since the summer of 2022. However, the battle for the city has resulted in far more Russian casualties than Ukrainians. And more importantly, General Zaluzhnyi avoided an obvious trap.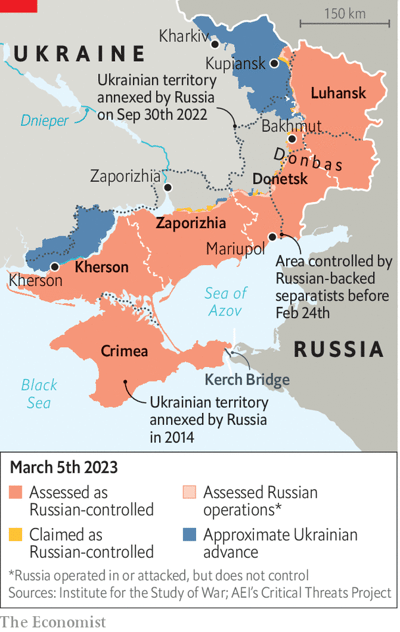 Instead of throwing significant reserves into Bakhmut to save the city that has far more symbolic than military value, he sent troops abroad to train with new equipment. During last year's offensive, the Ukrainian army mostly attacked in company formations. The training aims to unite the military into larger battalions and brigades capable of fighting a "combined arms" war, in which infantry, armored vehicles, artillery, and other types of combat equipment operate together, rather than just sequentially as they do now.
Western officials are divided over whether all this will be enough to drive Russia out of the roughly 18% of Ukraine it currently controls. Ammunition remains a major problem as Western allies slowly ramp up production. And Ukraine's lack of an air force could become an even bigger problem if Russian aircraft are willing to take greater risks in any Ukrainian offensive.
On the other hand, the Russian army is in terrible shape. If, after conquering Bakhmut, it decides to break through deeper into Donetsk, it will have to spend even more of its meager reserves. Eventually, Russia could start pulling units from other parts of the long front line, creating gaps that Ukraine could exploit, suggests Gustav Gressel of the European Council on Foreign Relations. Ukraine's allies are keeping a close eye on the weaknesses.
On March 2, Mark Milley, a senior American general, attended a wargame session hosted by America at a base in Wiesbaden, Germany, to help Ukrainian officers consider different offensive options. Few people think that Ukraine can restore its pre-war borders in a single blow, let alone regain territories, in particular, Crimea, seized by Russia in 2014.
But if Ukraine can tear off another significant chunk from the Russian occupation, as it did last year in the northeast around Kharkiv and in the south around Kherson, it would convince the allies that the war cannot reach a deadlock, General Milley said.
On February 24, 2023, it became known that the first Leopard 2 battle tanks had arrived in Ukraine from Poland.
If you want to receive the latest news about the war and events in Ukraine, subscribe to our Telegram channel!