Society
Scientists explain why dogs eat grass: should they be prohibited from doing so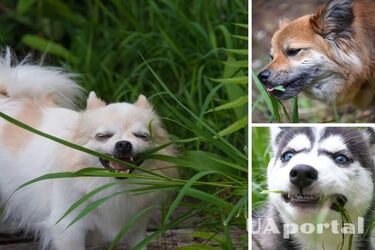 Dogs often eat grass, and there is no exact explanation for this. It is believed that most animals simply like the taste of grass.
Meanwhile, scientists at Yellowstone National Park in the US say that wolves also eat grass. So it's possible that dogs inherited their grass-eating habit from their closest relatives.
A study involving 12 dogs that ate grass every day showed that not all of them did so to "cleanse their stomachs". Therefore, the claim that dogs eat grass to induce vomiting is considered untrue.
Read also: Scientists have named dog breeds that will not be able to survive if humans disappear from the Earth
Scientists admit that dogs eat grass to fill their stomachs with fibre.
"The answer to the question of why your dog eats grass may be simple: because he likes it. Your dog may be bored, and chewing grass means doing something... Plucking grass from the ground can also be fun," the scientists say.
As for dogs vomiting after eating grass, the researchers advised pet owners to consult a veterinarian in case of frequent cases to find out if their dog's digestion is in order.
As a reminder, experts from the American Chemical Society explained why dogs should not eat chocolate.
If you want to get the latest news about the war and events in Ukraine, subscribe to our Telegram channel!