News
Putin and Alina Kabayeva live in the Valday residence on the money from the "common fund" from the sale of vodka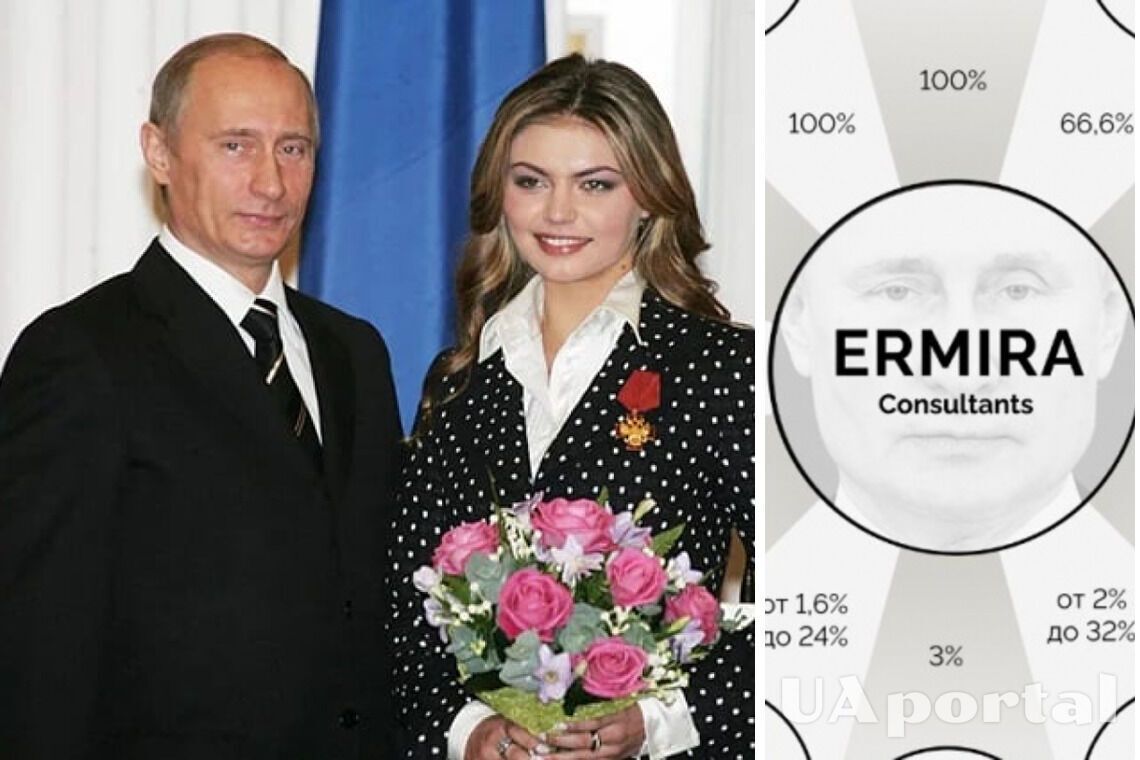 Russian dictator Vladimir Putin lives together with the gymnast and presumed mother of his children, Alina Kabayeva, in a residence on Valday, around which plenty of VIP villages have already been built. To purchase real estate, they use Putin's funds from the Cyprus offshore company Ermira Consultants, which is a "common fund" for Putin and his entourage. In total, Kabayeva and her relatives use real estate worth at least $120 million. The "Proekt" media outlet reported about this.
The gymnast's assistants and cousins are constantly at the residence, and one of the sisters even has a house nearby. A separate wooden terem [the separate living quarters occupied by elite women of the Grand Duchy of Moscow and Tsardom of Russia] was built for Kabayeva and her children, the same separate house for her is next to Putin's palace.
Read also: Putin's double may have performed at a paid concert in Luzhniki Stadium. The network compared two speeches of the Russian President
In 2018, a secret railroad was built, which he uses to get to the residence, presumably in his armored train. In 2021, a boat dock was built near the Kabayeva's place, from which one can swim across the canal and find themself in a 28-hectare park. The surroundings of the residence are protected areas, including the legally protected territory of the Valdaysky National Park.
In addition to outbuildings to Putin's palaces, Kabayeva has the largest penthouse in Russia. It is located in the Korolevsky Park residential complex in Sochi, and was also bought with funds from Putin's "common fund" in Cyprus, which also proves Kabayeva's connection to him. The penthouse area is 2,600 square meters and has a swimming pool, a cinema, a patio, and its own helipad, and the design was developed by Valentin Yudashkin. In 2021, Kabayeva's penthouse was recognized as the "largest apartment in Russia" – 2,000 square meters.
Funds are laundered through Ermira Consultants, a company that holds stakes in enterprises important to Putin. In particular, Ermira controls the Real Invest company, which owns the Putinka vodka trademark. The Russian president's entourage receives money from every bottle sold.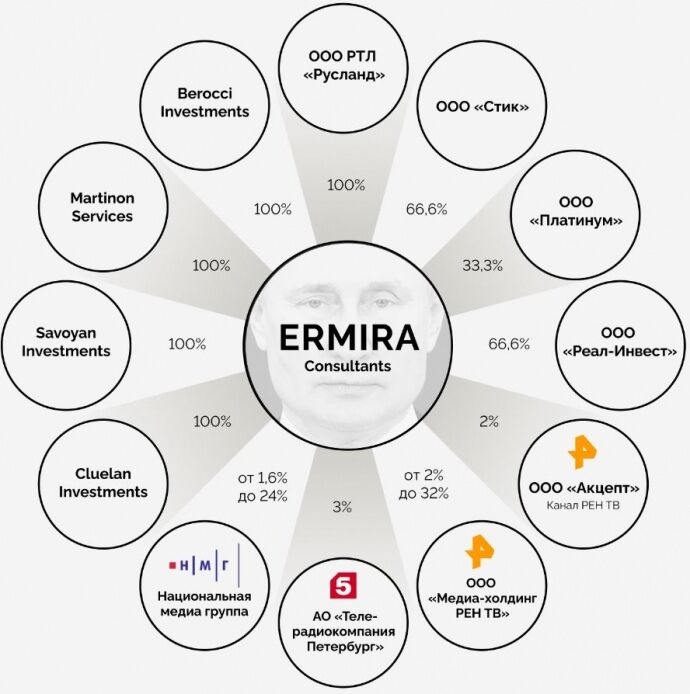 Read also: "Causes a gag reflex": net users created a bunch of memes after Putin's speech on February 21
The journalists talked with a former business manager of one of Putin's closest friends, who was involved in the management of a secret financial network. According to him, until 2015, the company belonged to a fake lawyer from St. Petersburg, Vladislav Kopylov, but in fact, the company's accounts were used to pay for purchases, including apartments and houses, for Putin and his family.
Since 2015, the ownership of the offshore company has allegedly passed to the people of oligarch Arkady Rotenberg. The source said that those close to Putin personally met with Rotenberg, Yuriy Kovalchuk, and their subordinates and told them what they needed.
The house was bought with the money of Ermira. So in 2011, Kabayeva bought 4 apartments in Sochi with this money, which were registered in trustees' names. In particular, on Kabayeva's grandmother, who lives in an old country house in the suburbs of Moscow.
The journalists also found out that the Cyprus-based company enriched itself by trading on the National Media Group (NMG) shares, where Kabayeva is the chairman of the board of directors. In 2013, Ermira Consultants acquired a 7.5% stake for €76 million, but 3 months later, it probably sold it to Gennady Timchenko's structures for €65.6 million more.
It should also be noted that the ownership of all real estate purchased by Putin offshore belongs to his company or front persons, not to his relatives directly.
Recall that the source of the Express publication, which has contacts in the Kremlin, claims that Vladimir Putin underwent "another medical examination" while US President Joe Biden was in Kyiv.
Earlier, Volodymyr Zelenskyy explained why he would not go to negotiations with Putin. According to him, any compromises regarding the territories within the framework of a potential peace are ruled out.
If you want to receive the latest news about the war and events in Ukraine, subscribe to our Telegram channel!