War in Ukraine
Clearing the way: Ukrainian Special Forces fighters show video of enemy's destruction on the left bank of the Kherson region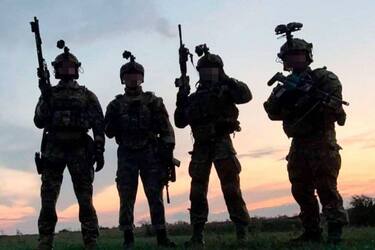 A video of the elimination of Russian militants hiding among private sector buildings is circulating online. The footage was taken from a drone.
It is stated that the Special Operations Forces are working on the enemy on the left bank of the Kherson region. "The SSO are destroying the enemy on the islands and the left bank of the Kherson region in preparation for the upcoming live action," the Mykolaiv Vanyok Telegram channel commented on the footage.
In the video, you can see the attacks on Russian soldiers scurrying among the buildings of the private sector. The enemy is also attacked near a pond.
There is no official confirmation that the SSO soldiers were working on the left bank of the Kherson region.
Earlier, the head of the Joint Coordination Press Centre of the Southern Defence Forces of Ukraine, Nataliya Gumenyuk, commenting on the operation of the Special Operations Forces on the left bank of the Kherson region, said: "Such an operation is quite risky, because the distance is quite large, and there is also an active counter-battery component in the area."
"In addition, the enemy has the ability to bring up reserves from their side. This is a risk, but such a successful attempt is another blow to the moral and psychological state of the occupiers," she explained.
Gumenyuk noted that the Russian interventionists cannot feel like absolute masters of the temporarily occupied territories, which they considered to be stable for their defensive positions: "And this serves as a signal from the Ukrainian Defence Forces that the enemy will not have long to hold on to the Left Bank."
As a reminder, on November 11, 2022, Kherson was liberated from Russian occupation, which had been under the city since the beginning of the full-scale Russian invasion.
Russian militants fled from the right bank of the Kherson region to the left bank and are constantly terrorising civilians in the liberated territories with shelling from various types of weapons.
If you want to receive the latest news about the war and events in Ukraine, subscribe to our Telegram channel!