News
"We came to liberate Russia": the Russian Volunteer Corps claims responsibility for events in the Bryansk region (video)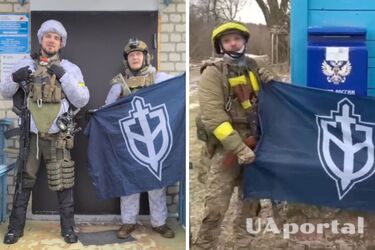 On Thursday, March 2, the Russian media reported about an armed provocation in the Bryansk region, accusing Ukraine of this. However, as it turned out, the Russians themselves were involved in these events.
In particular, a video appeared on the Russian Volunteer Corps (RDK) Telegram channel where two men in military uniform and with yellow ribbons on their clothes stated that there was no Ukrainian sabotage and reconnaissance group in the Bryansk region.
The fighters of the RDK declared: "Well, friends, it happened. The Russian Volunteer Corps crossed the state border of the Russian Federation, and the evidence is right behind my back [one of the men showed a sign that reads: "Lyubechansky obstetric point" – Ed.]".
Read also: 18-year-old Russian came to Ukraine on foot to join the Armed Forces of Ukraine (video)
"We don't fight civilians, we don't kill people without weapons, keep that in mind. Now it's time for ordinary citizens of Russia to understand that they are not slaves, raise riots, fight!" added the RDK fighters.
The Grunt publication notes that one of the soldiers in the video is Denis Nikitin, who is the head of the "Russian Volunteer Corps". It is noted that since the beginning of the full-scale invasion, he was in Ukraine and led this corps as part of the International Legion of the Armed Forces of Ukraine.
Also, a video was posted online where two men are standing with the flag of the RDK near a blue wooden building with a metal box for letters of Russian mail attached. A shootout can be heard in the background, gunfire is heard.
One of the men says: "We're the RDK fighters recording this video from the Bryansk region. We came here not as a sabotage and reconnaissance group but as a liberation army to our native land. Unlike Putin's army of executioners and rapists, we do not fight with peaceful people."
He then adds: "We came here to liberate you. We urge you to take up arms and fight Putin's Kremlin's bloody regime. Glory to the RDK - death to the Kremlin tyrant."
Recall that on March 2, the Russian social media and the press wrote about Ukrainian saboteurs who allegedly entered the border settlements of the Bryansk region and took hostages. The Federal Security Service reported that they, together with the military, are "carrying out measures to destroy armed Ukrainian nationalists who have violated the state border."
If you want to receive the latest news about the war and events in Ukraine, subscribe to our Telegram channel!