Recipes
How to make a delicious and satisfying salad without mayonnaise: a simple recipe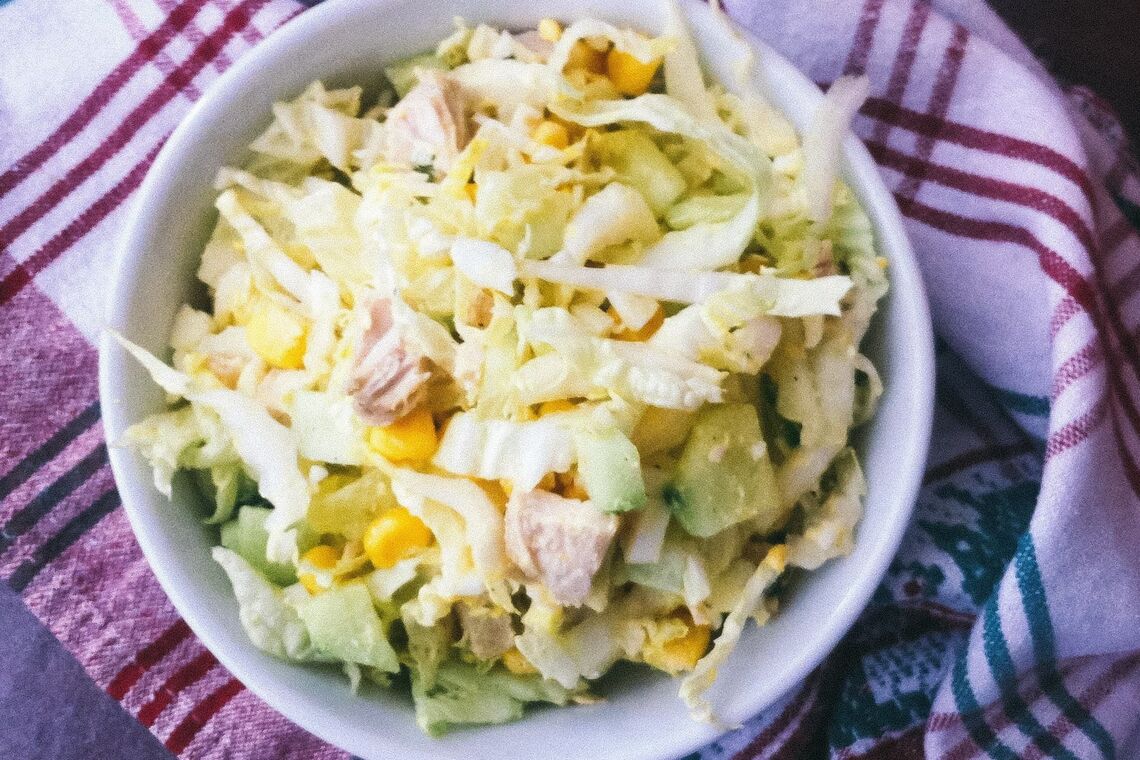 This salad is a good addition to a light dinner or can be eaten as a snack. The combination of ingredients is simple and very tasty, so you can make this salad almost every day. It is also very quick to prepare.
The salad has a very delicate flavor, and the cabbage gives it freshness and a pleasant crispness. It is also quite satisfying. Having boiled the chicken and eggs in advance, it will take no more than 5 minutes to prepare.
Also read: Klopotenko's vinaigrette recipe: the chef advised not to cook vegetables
Ingredients:
Chicken breast fillet - 200 g;
Chinese cabbage - 100 g;
Boiled eggs - 3 pcs;
Canned corn - 1 can;
Suluguni - 150 g;
Sour cream 15% - 3 tbsp;
Mustard - 1 tsp;
Salt;
Black pepper;
Boil the chicken fillet in salted water and let it cool. Dice the finished fillet and put it in a bowl. You should also boil the eggs in advance and dice or grate them as well.
Shred the Chinese cabbage and grate the suluguni cheese on a coarse grater. It is better to use this type of cheese, as it is better suited to this salad. Also, add canned corn.
Mix low-fat sour cream and mustard for the dressing, and you can also add a few drops of lemon juice to spice it up. Instead of sour cream, you can use natural yogurt without additives.
Add salt and pepper and mix the salad. Additionally, you can sprinkle the salad with parsley, which will make the color brighter and the dish looks better.
Enjoy your meal!
Earlier, we wrote about 8 mistakes that spoil chops during cooking, making them look like rubber soles.
If you want to get the latest news about the war and events in Ukraine, subscribe to our Telegram channel!