Society
How to prepare hydrangea for winter: gardening tips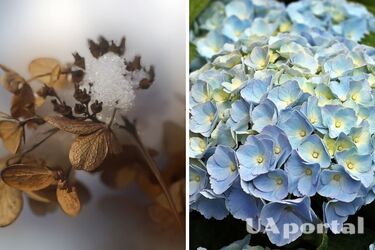 Cold weather is coming soon, so gardeners should pay attention to preparing flowers for winter. Hydrangea is not afraid of damping off, so it can be covered with almost anything.
The cover will protect the plant from frost. However, not all types of hydrangeas should be covered for the winter, according to Zelena Sadyba.
Only Bigleaf hydrange (Hydrangea macrophylla), and Sargent hydrangea (Hydrangea sargentiana) should be covered for the winter. This also applies to young seedlings.
Read also: Faded hydrangeas will "come back to life" in three simple steps: gardeners' tips
It is necessary to cover them when the first autumn frosts hit. This usually happens in October, when the temperature drops below zero for several nights in a row.
Hydrangeas can be insulated for the winter at one time. However, you should leave a few holes in the polyethylene before the frost for the plants to breathe.
Hilling and mulching are enough for young seedlings. In addition to hilling, Sargentia hydrangea should also be gathered together, tied up and wrapped in agrofibre or polyethylene.
Earlier, we named the 10 most common mistakes you can make when growing hydrangeas.
If you want to get the latest news about the war and events in Ukraine, subscribe to our Telegram channel!