Recipes
Perfect for breakfast: a recipe for casseroles - casseroles with sausages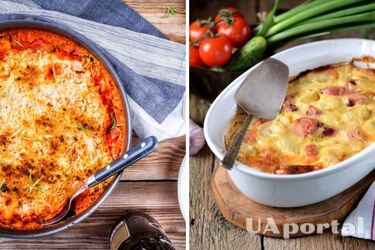 The word casserole means a large, deep pan and, separately, the food cooked in this dish. This dish from Shuba is very satisfying and incredibly tasty.
Ingredients:
Sausages - 450 g
Yellow onion - 0.5 pcs
Red bell pepper - 1 pc
Chicken eggs - 10 pcs
Cream 15% - 1.4 cups
Mustard - 1.5 tsp
Salt - 1 tsp
Allspice - 0.7 tsp
Hard grated cheese - 2 cups
Loaf - 1.5 pieces
Read also: Housewives told the recipe for an omelet with zucchini for breakfast
Method of preparation:
Preheat the oven to 180 degrees.
Grease a baking dish with vegetable oil.
Chop the peeled onion.
Chop the red pepper.
Cut the loaf into large squares.
Heat a large skillet over medium heat. Add the sausages, chopping them into small pieces. Cook for 6-8 minutes.
Add the bell pepper and onion and cook for another 3 minutes.
Transfer to a plate and cool.
In a bowl, beat eggs, cream, mustard, hot sauce (optional), salt, black pepper. Add 1.5 cups of grated cheese, cubes of bread, sausages with peppers and onions. Stir to combine.
Put everything in a baking dish and smooth it out.
Cover the baking dish with foil and put it in the oven for 50 minutes, then remove the foil and put the remaining ½ cup of cheese on top.
Increase the temperature to 200 degrees and bake for another 10-15 minutes.
We also recommend that you pay attention to the recipe for scrambled eggs with carrots and cheese.
If you want to get the latest news about the war and events in Ukraine, subscribe to our Telegram channel!