Recipes
Crispy dough and juicy filling: quiche lorraine recipe with broccoli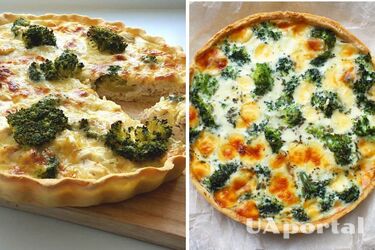 Crispy dough and juicy filling - this is broccoli quiche lorraine. This pie is delicious both cold and hot.
Ingredients:
- Puff pastry - 500 g
- Frozen broccoli - 250 g
- Cream, 10% - 200 ml
- Milk - 100 ml
- Eggs - 2 pcs.
- Hard cheese - 70 g
- Salt - to taste
- Pepper - to taste
- Ground dried garlic - to taste
Read also: How to make a chocolate fondant to look like a restaurant
Method of preparation:
1. Defrost the dough. Transfer it to a baking dish and flatten. Make a few punctures.
2. Trim off any excess dough.
3. Boil the broccoli for 4 minutes. Remove and let the water drain.
4. Filling: whisk cream, milk, eggs, salt and spices. Add the grated cheese and mix.
5. Pour the filling into the mold, leaving 1.5 cm to the edge of the sides, and put the broccoli. Add feta to taste.
6. Bake the quiche at 180 °C for 40 minutes.
We also recommend paying attention to the recipe fot lazy dumplings with cottage cheese and mint sauce.
If you want to get the latest news about the war and events in Ukraine, subscribe to our Telegram channel!