Lifehacks
How to fertilize peppers to get a generous and healthy harvest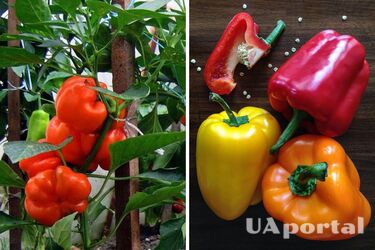 To get a large harvest of pepper, you need to fertilize the plant. Also consider the acidity of the soil on which the vegetable grows.
UAportal tells you about the most effective ways to feed peppers in the summer. This healthy and tasty plant will definitely delight you with its fruits.
Read also: Four "whims" of pepper: what this vegetable does not like
Bell peppers like light, neutral soils enriched with organic matter. However, even the most fertile soil may not give the desired result, because the plant is quite picky.
When you grow peppers, you need to feed them 2 to 4 times per season.
Before the fruits begin to appear, you need to feed the plant with the following solution: 10 liters of water, 10 g of ammonium nitrate, 25 g of superphosphate, and 25 g of potassium sulfate. This should be done when the ovaries appear.
Later, you can fertilize the pepper as needed, but keep an interval of two weeks. For example, if the plant has stopped growing.
It is best to combine fertilization with the next watering. This way, the roots will not get burned and will remain strong and healthy.
To make the fruits grow quickly, feed the plant weekly with ash tincture (2 cups of ash per 10 liters of water) or nettle infusion with the addition of manure.
During the fruiting period, prepare the following solution for peppers: add 10 g of ammonium nitrate and 200 g of ash to 10 liters of water.
As a reminder, one of the TikTok bloggers shared an interesting technique for planting tomatoes. According to him, it really works.
If you want to get the latest news about the war and events in Ukraine, subscribe to our Telegram channel!