War in Ukraine
Ukrainian Armed Forces fighters successfully hunted the enemy in the gray zone (video)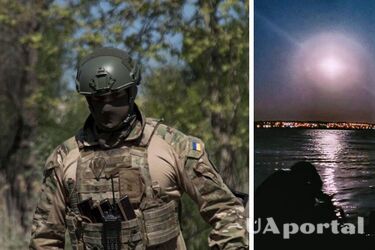 Soldiers from the 73rd Naval Center of the Special Operations Forces named after Kosh Ataman Antin Holovaty eliminated a group of Russian occupants in the gray zone. It happened in the southern sector of the frontline.
Our defenders posted footage of their work on Facebook. It is noted that at night, a group of the Special Forces soldiers went on a reconnaissance mission. The group included drone operators. They landed in the "gray zone" to conduct reconnaissance from the air.
Read also: Ukrainian artillery destroyed a tank and two occupants' MT-LBs in Svatove sector (video)
Russian militants were spotted in the area of the mission. UAV operators identified their location - the Russians were hiding in an abandoned building.
"At the request of the Ukrainian Armed Forces, friendly artillery fired on the building. After the shells exploded, several Russians jumped out of the building, using the building as a shelter. After the artillery hits, they began to change their position to hide. The enemy changed the place several times in search of a new shelter," the SSO soldiers told the details of the "night hunt".
It is noted that attempts to find a new shelter were in vain every time - the artillery smashed everything the Russians fled to.
"The operators continued to adjust artillery strikes. The enemy suffered losses in wounded and killed. After the enemy position was destroyed, the UAV operators joined the rest of the group," added our defenders.
After completing the mission, all participants of the night battle returned to the base unharmed.
As a reminder, soldiers of the 10th Separate Mountain Assault Brigade repelled the occupiers, who attempted to attack the Ukrainian Armed Forces position.
If you want to get the latest news about the war and events in Ukraine, subscribe to our Telegram channel!