War in Ukraine
"They threw a mine party": border guards showed the destruction of Russian militants in Bakhmut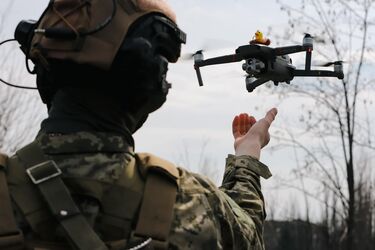 Ukrainian border guards from the Luhansk detachment on the eastern part of the front eliminated the enemy. Fighters from the DPSU attacked Russian attack aircraft.
As reported by the State Border Service of Ukraine, our defenders arranged an enemy "mine party" in Bakhmut, Donetsk region. A video of the elimination of Russian militants appeared on social networks.
Read also: Soldiers of the 110th OMBr showed how "beneficial fire descended" on the enemy anti-aircraft installation (video)
In the footage, taken from a drone, you can see how Russian attack aircraft in small groups or alone hang out among abandoned buildings and trees. Meanwhile, they are being followed by aerial scouts from drones.
When the interventionists make their way to one of the buildings, they are blown up along with the building.
"The border guards of the Luhansk detachment in Bakhmut arranged a mining party for the stormtroopers," - this is how these cadres of the DPSU signed.
Meanwhile, Serhii Chrevaty, the spokesman of the Eastern Group of Forces, said that unprecedented fierce battles are taking place in Bakhmut.
"The enemy has set the goal of taking the city. Our soldiers in fierce battles are doing everything to wear down the enemy's fighting capacity, knock out his strength and morale," he said.
The other day, fighters of the 30th separate mechanized brigade named after Prince Konstantin Ostrozhsky were destroyed by the enemy's calculation of the "Kornet" anti-tank missile.
If you want to receive the latest news about the war and events in Ukraine, subscribe to our Telegram channel!