War in Ukraine
The Ukrainian military eliminated the Strela-10 air defense system in Luhansk region (video)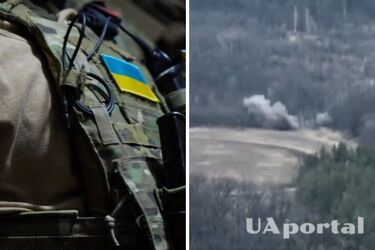 The Ukrainian military continues to heroically destroy the occupiers and restrain the invaders in various areas of the front. In particular, fighters of the 26th artillery brigade named after Corporal General Roman Dashkevich are defending his positions in Luhansk region.
The day before, they destroyed the Russian Strela-10 anti-aircraft missile system. This was announced on the Facebook page of the Ground Forces of the Ukrainian Armed Forces.
"In the Luhansk Region, the 26th Artillery Brigade named after Colonel-General Roman Dashkevich hits an enemy air defense system," the report says.
Read also: "They threw a mining party": border guards showed the destruction of Russian militants in Bakhmut
In the video, you can see how the Ukrainian military discovered the location of the enemy air defense system. In the following footage, you can see how the gunners destroy the occupiers' equipment.
The exact time and place of liquidation of the anti-aircraft missile complex are not announced for security reasons.
For reference:
The Strela-10 anti-aircraft missile complex is designed to destroy aircraft, helicopters, cruise missiles, and other visually observable air targets at altitudes from 25 to 3,500 m and ranges from 800 to 5,000 m. The basis of the complex is the 9A34 combat vehicle, made on floating and air transportable chassis MTLB.
Tactical and technical characteristics of the Strela-10 air defense system:
the complex provides shooting from a standstill, from short stops, and in motion at a speed of up to 30 km/h at targets on an oncoming and overtaking course;
range of hitting targets - from 800 to 5000 m;
height of defeat of the target - from 25 to 3500 m;
The speed of targets hit: on opposite courses - up to 420 m/s; on catch-up courses - up to 310 m/s;
the probability of hitting a target with one missile is 0.5 - 0.6;
combat kit (on the launcher) - 4 missiles (in addition, another combat kit - 4 missiles is carried in the aft part of the BM);
the time of transferring the air defense system from the initial position to the combat position - 20 s;
the time of folding the air defense system ready for marching is 2-3 minutes;
the time to charging the BM with four rockets is 3 minutes;
The other day, fighters of the 30th separate mechanized brigade named after Prince Konstantin Ostrozhsky were destroyed by the enemy's calculation of the "Kornet" anti-tank missile.
If you want to receive the latest news about the war and events in Ukraine, subscribe to our Telegram channel!