War in Ukraine
Ukrainian paratroopers epically destroyed the BMP of the occupiers in the Luhansk region (video)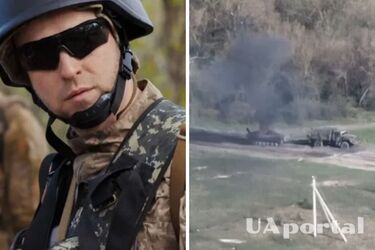 The Ukrainian military continues to heroically hold back the onslaught of the occupiers. In particular, fighting continues in the Luhansk region.
The day before, the fighters of the 25th separate Sicheslav Airborne Brigade managed to eliminate the BMP of the Russians. This was reported on the brigade's Facebook page.
"Sycheslav paratroopers destroyed the occupiers' BMP, which tried to evacuate a damaged truck. The "Gods of War" 25th separate Sicheslav airborne brigade of the Ukrainian Armed Forces of the Armed Forces of Ukraine are working accurately against enemy targets in the Luhansk region! Each of their shots is the destroyed equipment and manpower of the occupiers," the message says.
Read also: Ukrainian fighters "won" the Russian "Sunset" near Bakhmut
In the video, you can see how the occupiers are trying to evacuate the damaged equipment. The following footage shows how a well-hit shot stops the Russian and the car bursts into flames.
The exact time and place of destruction of the BMP are not reported for security reasons.
The other day, fighters of the 30th separate mechanized brigade named after Prince Konstantin Ostrozhsky were destroyed by the enemy's calculation of the "Kornet" anti-tank missile.
If you want to receive the latest news about the war and events in Ukraine, subscribe to our Telegram channel!