War in Ukraine
"No escape": fighters of the 59th Brigade eliminate two tanks that broke through to Ukrainian positions (video)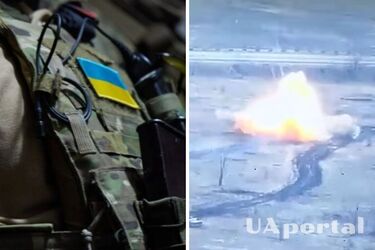 Ukrainian troops continue to destroy the enemy in various parts of the frontline. In particular, soldiers of the 59th Separate Motorised Infantry Brigade named after Yakiv Handziuk destroyed two enemy tanks.
The occupiers once again tried to break through to the positions of the Armed Forces. This was reported on the brigade's Facebook page.
"Once again, Russian tanks tried to break through to the positions of the Armed Forces. But our soldiers are always on the alert, so they met the intruders with a warm welcome," the statement said.
Read also: Ukrainian Armed Forces snipers organised a "night hunt" for the enemy near Bakhmut
It is noted that the first tank was hit immediately. The crew of the second tank tried to escape.
The video shows the destruction of one unit of Russian military equipment. The second tank of the occupiers, seeing this, begins to drive away, trying to escape.
However, the next shots show the elimination of the enemy military vehicle.
The exact time and place of the destruction of the enemy tanks is not disclosed for security reasons.
We shall remind you that the Ukrainian military earlier launched a series of successful counter-attacks and "crushed" the enemy near Bakhmut. The soldiers of the 3rd Independent Assault Brigade eliminated the enemy.
If you want to get the latest news about the war and events in Ukraine, subscribe to our Telegram channel!