War in Ukraine
A Russian occupier inadvertently gave up his position to the Armed Forces of Ukraine (epic video)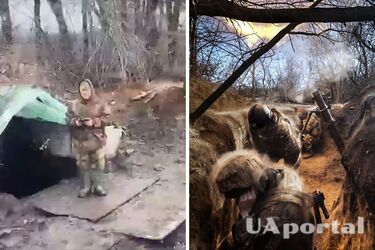 Ukrainian defenders managed to disarm a Russian drone in the Kharkiv region. Thanks to the recording made by the drone, it was possible to calculate the enemy's position and neutralize it.
The State Border Guard Service of Ukraine reported it. The Service showed an epic video, which was shot by a Russian drone. "Now the fate of a clueless drone operator is unknown...," the State Border Guard Service added.
Read also: A video showing how a drone corrects the attack of the Armed Forces of Ukraine on the positions of the occupiers in complete darkness appeared online (video)
The footage shows the drone approaching a Russian soldier standing near his position in the mud. The drone captured the launch site and the person controlling it.
"The other day, the border guards of the Luhansk detachment in the Kharkiv region landed an occupier's drone that was scouting the positions of Ukrainian defenders. The occupier-drone operator filmed himself and the location of the drone launch site. Thoroughly examining the area's landmarks captured on the drone's memory card, the border guards calculated the location of the enemy's positions. The necessary coordinates were transmitted to the artillery of the Armed Forces of Ukraine to destroy enemies," the State Border Guard Service reported.
Earlier, a video showing how the Ukrainian military disarmed several occupiers at once using a drone appeared online. For this purpose, our fighters dropped a grenade from the drone.
If you want to receive the latest news about the war and events in Ukraine, subscribe to our Telegram channel!