War in Ukraine
Scouts from the 30th OMBr demonstrated the liquidation of the enemy anti-aircraft missile "Stryzh" from the self-propelled gun "Krab" (video)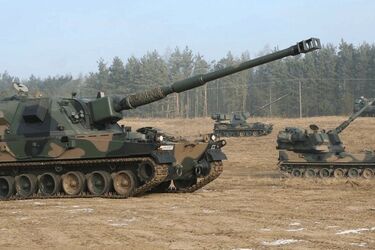 Soldiers of the Armed Forces of Ukraine in one of the directions of the front blew up the mobile defense system against the unmanned aerial vehicle "Stryzh". The enemy EW was eliminated with the help of the Polish Krab self-propelled howitzer.
The destruction of the "Stryzh" EW was caught on video. It was published on the page of the brigade named after Prince Konstantin Ostrozky on Facebook.
"Reconnaissance officers of the 30th Separate Mechanized Brigade, together with gunners of the 26th Separate Artillery Brigade, destroyed the Strizh anti-aircraft missile defense system. The Crab self-propelled guns worked brilliantly!", the soldiers of the 30th OMBr commented on these shots.
Read also: "Born in a shirt": a video appeared of how a fighter of the 35th OBMP miraculously avoided being wounded in the head during a battle
For reference:
РЕБ "Stryzh" is a mobile system of protection against unmanned aerial vehicles, the purpose of which is to detect drones, transmit an alarm signal to the control and signaling panel, and block UAV control and navigation channels.
The Krab self-propelled gun is a British-Korean-Polish self-propelled howitzer, which began serial production in 2014. It has a modern 155 mm system with a barrel length of 52 calibers, as on other modern models such as the PzH 2000 or CAESAR. The Krab also has very high mobility and can change position already 30 seconds after the shot. In addition, the K9 chassis is highly reliable, and the hydropneumatic suspension of the chassis ensures an extremely smooth ride. The Krab is equipped with an additional power plant. This allows you to work without turning on the main engine, saving both fuel and machine resources.
The other day, fighters of the 30th separate mechanized brigade named after Prince Konstantin Ostrozhsky were destroyed by the enemy's calculation of the "Kornet" anti-tank missile.
If you want to receive the latest news about the war and events in Ukraine, subscribe to our Telegram channel!