Telegram news
Incredible discovery: scientists stumble upon a Japanese ship sunk in 1942 off the coast of Australia (video)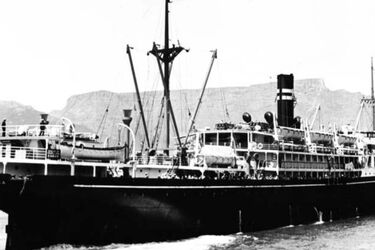 In 1942, the Japanese ship Montevideo Maru sank after a torpedo attack. Then 1060 people died. The ship was found at a depth of four kilometers.
This was stated by Australian Prime Minister Anthony Albanese.
The Montevideo Maru was attacked by the USS Sturgeon submarine on July 1, 1942. On board were military and civilians who had been captured by Japanese forces in Rabaul, Papua New Guinea. Along with the ship, 1,060 people went down, including 850 Australian military personnel and 210 civilians from 14 countries.
"We hope that today's news will bring some comfort to the loved ones who have been waiting for this for a long time," Albanese said.
That day, the submarine fired four torpedoes at the Montevideo Mar. It took less than 11 minutes for the ship to sink. The ship lay at the bottom for 81 years at a depth of 4000 meters (200 meters deeper than the Titanic).
On April 6, a team led by representatives of the Silentworld Foundation and Fugro submarine specialists set out in search of the ship. The expedition was supported by the Australian Ministry of Defense. The ship was found in 12 days.
Before the expedition, the scientists spent years exploring the seabed and narrowing down the search radius. The wreckage was found with the help of an underwater drone. Scientists will not raise the ship itself or the remains of the victims from the bottom, but will only collect the necessary information about the disaster.
Read also: Sculptures of ancient gods discovered in Spain.
"We looked at the grave of more than 1000 people," said Rajep Turner. "We lost twice as many Australians here as we did in the entire Vietnam War, so this is an extremely important discovery for families and descendants. The technical task is very important, which is exciting and motivating, but on the other hand, humanity is also important. We had two people on board who had lost family members, so there was applause on the one hand and tears on the other."
Earlier, we wrote about an interesting find: an axe that is 4500 years old.
If you want to get the latest news about the war and events in Ukraine, subscribe to our Telegram channel!