War in Ukraine
"Surgical precision": fighters of the presidential brigade showed footage of the destruction of an enemy stronghold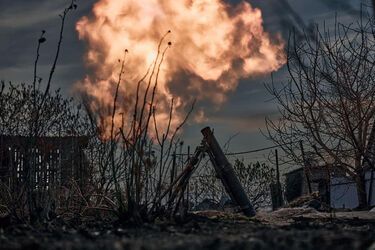 Fighters from a separate presidential brigade named after Hetman Bohdan Khmelnytskyi in eastern Ukraine destroyed an enemy stronghold with mortars. It happened in the direction of Novopavlovsk.
The video of the liquidation of the enemy and his weapons stockpiles got into social networks. It was shared on the brigade's Facebook page.
Read also: Fighters of the 79th Infantry Division showed a video of the destruction of two Russian MANPADS "Igla" with one grenade
Soldiers from the brigade named after Hetman Bohdan Khmelnytsky first demonstrated the liquidation of the Russian stronghold. And then hitting enemy machine guns and AGS (machine-mounted automatic grenade launcher) and RPG (manual anti-tank grenade launcher) with ammunition from 60-mm and 82-mm mortars.
"Our fighters discovered an enemy stronghold in the Novopavlovsk direction. With accurate hits of 60-mm and 82-mm mortars, they destroyed a machine gun position, an AGS, and an RPG with ammunition. The "Banker" and "French" teams are working. 1RSP 20 OBSP of the Presidential Brigade," - soldiers from the presidential brigade commented on the footage of the attack.
We will remind you, the military from the 36th separate brigade of Marines named after Rear Admiral Mykhailo Bilinskyi and the 503rd Separate Marine Infantry Battalion showed how drones attack Russian soldiers trying to advance on Donetsk region.
Earlier, DSHV fighters showed a video of the destruction of the Russian Su-25 "Hrach" attack aircraft.
If you want to receive the latest news about the war and events in Ukraine - subscribe to our Telegram channel!