War in Ukraine
Fighters of the 30th brigade destroyed the Russian "Cornet" from the "Stugna" ATGM (video)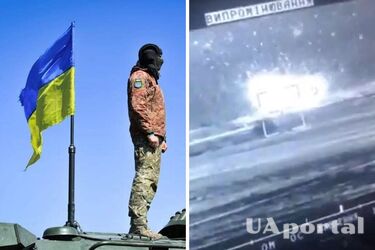 Fighters of the 30th separate mechanized brigade named after Prince Konstantin Ostrozhsky were destroyed by the enemy's calculation of the "Kornet" anti-tank missile. For this, the Ukrainian military used the "Stugna" ATGM.
The elimination of the enemy's anti-tank-guided missile system took place in one of the areas of the front. People's Deputy of Ukraine Yury Mysyagin reported this on his Telegram channel.
"The Russian Kornet anti-tank missile was destroyed by the soldiers of the 30th brigade of the Armed Forces of Ukraine, who clearly worked with the Stugna-P anti-tank missile," the message says.
Read also: Fighters of the 79th Infantry Division showed a video of the destruction of two Russian MANPADS "Igla" with one grenade
In the video, you can see how the Ukrainian military discovered the location of the occupiers' anti-tank missiles. in the following frames, they strike from the Stugna anti-tank missile system. The projectile hits the target exactly.
The exact time and place of destruction of the "Kornet" anti-aircraft missile defense system is not disclosed for security reasons.
Earlier, DSHV fighters showed a video of the destruction of the Russian Su-25 "Hrach" attack aircraft.
If you want to receive the latest news about the war and events in Ukraine, subscribe to our Telegram channel!