War in Ukraine
Ukrainian artillery destroyed a tank and two occupants' MT-LBs in Svatove sector (video)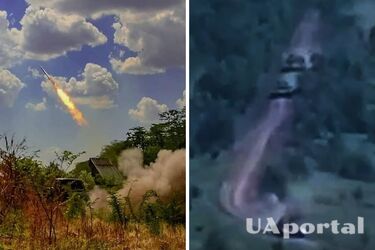 The Ukrainian military, together with the border guards, continue to hold back the invaders in various parts of the frontline. In particular, soldiers of the 92nd Separate Mechanised Brigade of the Armed Forces of Ukraine inflicted losses on the occupiers' equipment in the Svatove direction in the Luhansk region.
Ukrainian defenders managed to eliminate five positions of the Russian occupiers. This was reported on the State Border Guard Service's Telegram channel.
It is noted that the artillery also hit one tank, two MTLB transporters (one of which was equipped with a Vasylek mortar), one unit of cannon artillery, and three places of concentration of enemy equipment.
Read also: "We are moving to offensive actions": Maliar comments on the situation at the front
"The SBGSU aerial reconnaissance aircraft together with the artillery of the 92nd Separate Mechanised Brigade of the Armed Forces of Ukraine started the summer in the Svatove direction: 5 locations of the invaders, 1 tank, 2 MT-LBs (1 with a Vasylek mortar), 1 cannon artillery, 3 places of enemy equipment concentration were destroyed. So, our reconnaissance is flying skilfully and keeping a close eye," the statement said.
In the video, you can see how aerial reconnaissance men detect the movements of the invaders. The following shots show accurate artillery strikes on the location of the Russians' equipment.
The exact time and place of the invaders' destruction is not disclosed for security reasons.
To recap, the soldiers of the 10th Separate Mountain Assault Brigade repelled the occupiers who attempted to attack the Ukrainian Armed Forces' position.
If you want to get the latest news about the war and events in Ukraine, subscribe to our Telegram channel!