Recipes
Recipes for 8 March: what can you cook for your beloved on the holiday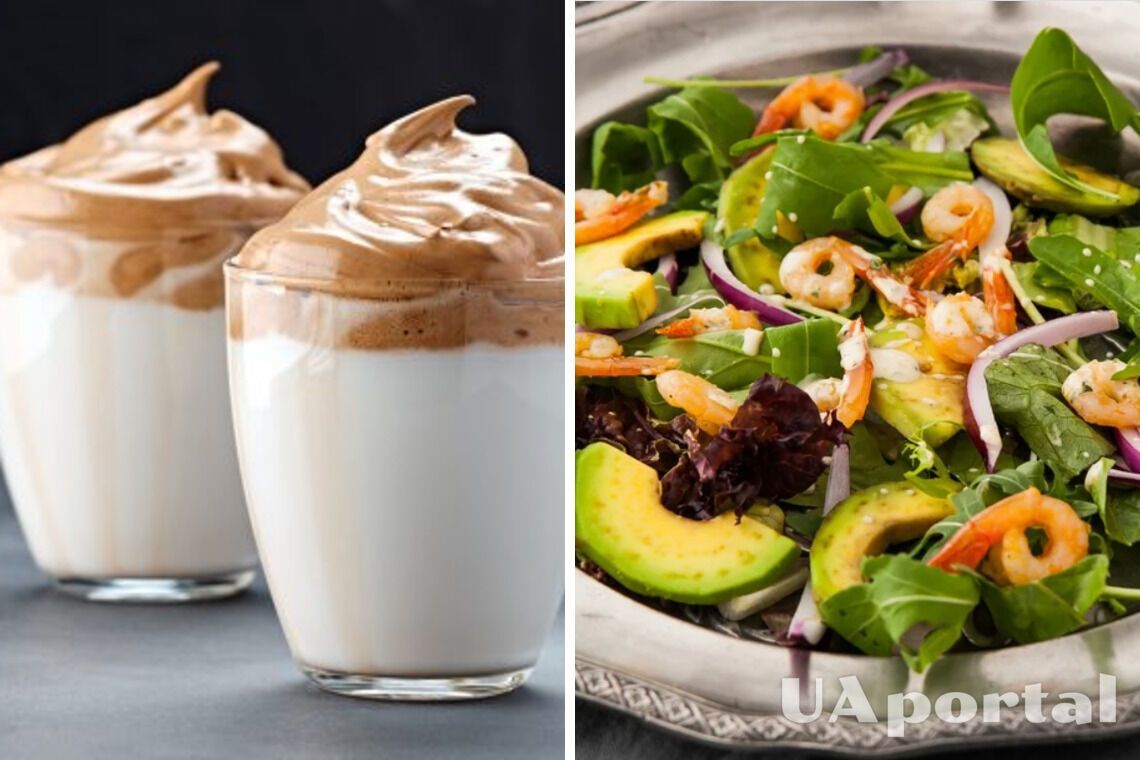 If you want to surprise your girlfriend on 8 March, you can make her a shrimp salad and dalgona coffee for breakfast.
To make Korean dalgona coffee, you will need 2 tbsp of instant coffee, the same amount of sugar, a few tablespoons of hot water, and 400 ml of milk.
First, whisk the coffee, sugar and hot water until the mixture becomes creamy. Pour the heated milk into a glass cup or glass and top with the coffee cream.
Read also: Klopotenko's vinaigrette recipe: the chef advised not to cook vegetables
To make a salad with avocado and shrimp, you need the following ingredients:
Avocado - 2 pcs.
Cream cheese - 100 g
Shallots - 1 pc
Cream cheese - 100 g
Lightly salted salmon - 200 g
Peeled boiled shrimps - 15 g
White bread crumbs - 4 tbsp
Cherry tomato - 3 pcs
Lettuce - 100 g
Olive oil - a tablespoon
How to cook:
Peel one avocado and cut it into pieces of any size. Finely chop the onion and mash it together with the avocado.
Mix the second avocado with the lettuce and add the salmon, cut into random pieces.
Put the avocado and onions on a plate first, then the salmon pieces, and then the cream cheese on top, followed by the croutons. Then put lettuce leaves with salmon on top and arrange the peeled prawns on top.
Garnish the salad with cherry tomatoes, cut into 4 pieces. Drizzle olive oil over the top.
As a reminder, UAportal shared how to make glazed cheeses with a "childhood taste". This handmade delicacy will not leave anyone indifferent and will be a good addition to tea or coffee.
If you want to get the latest news about the war and events in Ukraine, subscribe to our Telegram channel!